The hair tie is comprised of a hairpipe (The long bone shape) on one end, and a pendant on the other. Elastic cord holds the two together. You take the pendant and place it where you want it to stay put on your head. While holding the pendant in place with one hand, you take the free hand and wrap the cord around the hair you want in the ponytail.
You can wrap it around a small patch of hair for a half up, half down effect, the entire head for a head band effect, around all of the hair for one ponytail, or you can experiment and come up with new ways. Once you have the cord wrapped around and achieve the desired tightness and location, take the hair pipe and stick it through the hole on the pendant. This secures the hair tie in place. Now you are all ready to go!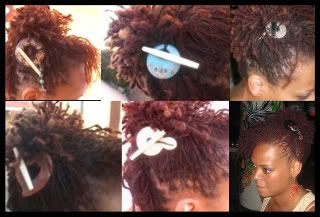 Recent Feedback:
"Mrs. Tillman i love the hairtie head band. I was wearing the pony tail holder, but just wore it headband style today, im in love, it doesnt slide off. im gonna get a bunch more for the family cant wait till you blow up! lol"
"I love these hair ties! I have about 4 or 5 of them.I wear mine kinda hairband style. I am actually wearing one in my pix that I posted to the group. They are well made ( my 4 year old couldn't break it, and it wasn't for a lack of trying on his part). The hair ties do not pinch or pull hair and it doesn't give you a headache. The customer service is wonderful and shipping was fast (gave me the tracking number and everything). I just looked at the new pieces at etsy website and they are just too cute. Once you see them you will have to have one."